Rigi oder Pilatus
Rigi or Pilatus which Mountain should you visit?
If you are visiting Lucerne, one of the must do's is to visit either Mount Rigi or Mount Pilatus. Luckily, I have great news for you: it's impossible to make a wrong decision, both of them are spectacular. But depending on who you are traveling with, how much time you have, and what your personal preferences are the purpose of this blog is to give you some detailed information so that your decision-making process will be a little bit easier.
Mount Rigi:
The locals call Rigi the "Queen of the Mountains," standing at 1,798 meters (or 5,898 feet) high. In 1871, Rigi had the first cogwheel train in Europe which started in Vitznau just next to the Lake of Lucerne.
From Lucerne, you take the boat to Vitznau which lasts about 55 minutes. Once you get to Vitznau you continue with the cogwheel train, which brings you up to Rigi Kulm. From there it is just a short walk (10 minutes) to the summit where you have an impressive view. Besides the alps and Lucerne, you also see Lake of Zug which is located on the other side of the mountain. To return, you can either go the same way or you take the cable car from Rigi Kaltbad to Weggis. From Weggis, you can take the boat and go back to Lucerne.
If you'd rather do an easy hike, I highly recommend getting off the train in Rigi Kaltbad and walking to the summit, which takes a bit over an hour approximately. It is a really easy hike and you get rewarded with a stunning vista throughout the entire walk, and you'll also see many traditional, old wooden chalets. If you get hungry, I suggest having lunch in the restaurant Bärggnuss at Rigi Staffel. Try the local favorites and get Spätzli or Rösti: they're delicious and will give you the power to reach the summit!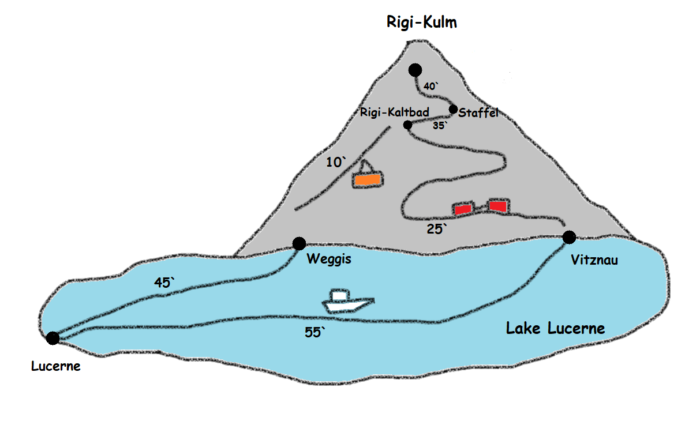 Mount Pilatus:
Pilatus is definitely the main symbol of Lucerne. You can't visit Lucerne without taking a picture of this impressive Mountain. Pilatus towers at 2,132 meters (or 7,000 feet) high!
From Lucerne, you can take the boat to Alpnachstad, which lasts about one hour (depending on which boat you take). From there you continue with the steepest funicular in the world! The ride brings you straight to Pilatus – Kulm. From there you can have a five-minute walk to reach the highest point. The view is spectacular and you will definitely take some great pictures up there, not that you'll forget it! On top, you will find a hotel and a restaurant. From there you return by cable car to Kriens where you take the bus number 1 to get back to Lucerne. Einfach!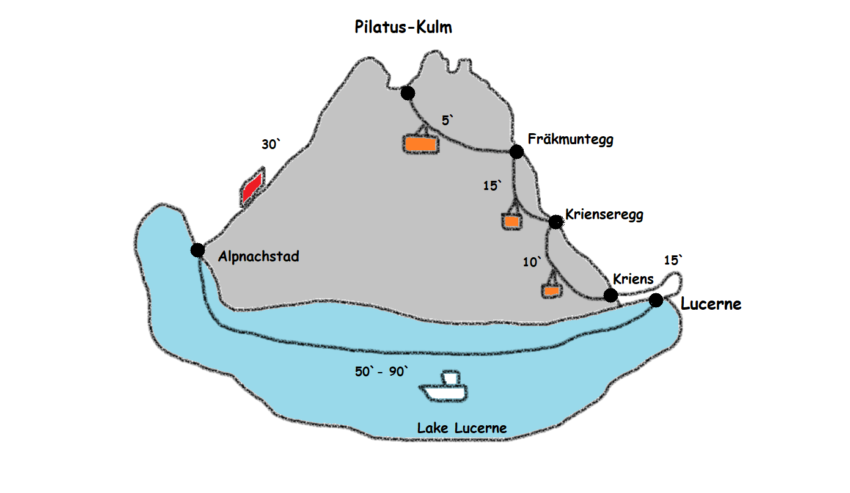 Rigi or Pilatus?
There are a few things to consider:
Who are you?
For families, Pilatus definitely has more to offer. At Krienseregg, there is a huge outdoor playground and at Fräkmüntegg, there is a rope park for adults and children as well as a 1,350-meter toboggan adventure.
How much time do you have?
Because Rigi is further away, you will need about six hours to really enjoy your time and not be rushed. If you only have a few hours you should visit Pilatus, which is closer to Lucerne.
Do you like to hike?
If you enjoy going for an easy hike Rigi is the Mountain to choose. You have definitely more options than on Pilatus. If you are really fit you can also hike both mountains from the bottom. Rigi takes about 2.5 hours and Pilatus: 4 hours.
Price
For this tour as described above Rigi costs CHF 117 and Pilatus CHF 110. If you consider visiting more than one mountain you should buy a Tell Pass to get a great discount. You can find out more about that here: https://www.tellpass.ch/en/
Don't forget to always bring a jacket with you when you visit the mountains, the weather can change really fast. It is always helpful to check the mountain live cameras.
I hope this blog was useful to you, if you have any questions or comments please let me know in the section below.
Cheers, Roberto